"A Shakespearean delicacy!"
Kentish Times
"The Melmoth production of
Two Gentlemen of Verona is
exactly the type of production
that should turn everyone
who dislikes the Bard
into an instant convert"
The Kentish Times

"This was really a director's production
and the twist he gave to the last
scene was creativity of the
highest order."
The Kentish Times

"Pretty irresistible"
Time Out, London
"the utterly fabulous, utterly hysterical, totally feelgood production of Two Gentlemen of Verona"
BOYZ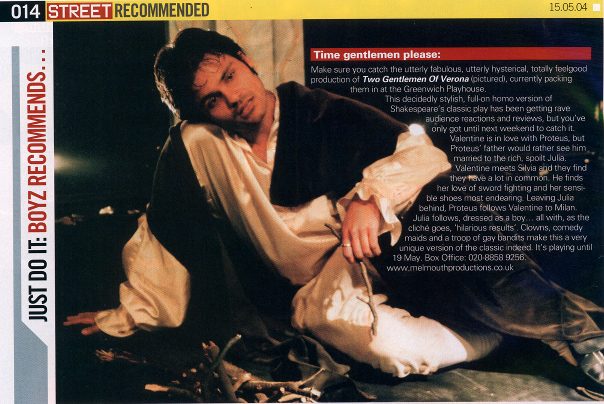 "A delightfully queer finale"
Time Out, London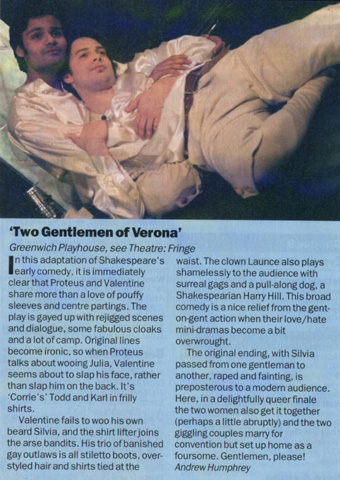 "James Lavender is brilliant"
Clare Peel, Theatreworld Internet Magazine
Two Gentlemen of Verona, by William Shakespeare, adapted by Stuart Draper
Spring is in the air, and to match is a frothy, high-camp version of the Bard's little-known early play 'Two Gentlemen of Verona', at Greenwich Playhouse, courtesy of production company Melmoth and director Stuart Draper. It's an interesting play in that in many ways it is a precursor to Shakespeare's (better) later works and characters - elements from Romeo and Juliet, Twelfth Night, A Comedy of Errors and A Midsummer Night's Dream are all of evidence. In many ways, this is Shakespeare's dummy run, if you like.
At the core of the play is the relationship between close friends (and in this version, gay lovers) Proteus and Valentine. Valentine is in love with Proteus, but Proteus's father disapproves and wishes his son to marry the rich, spoilt Julia. Valentine flees to Milan, where he falls in love with Silvia, daughter of the Duke of Milan. The Duke, in turn, disapproves of Valentine's suit, wishing to marry his daughter off to the pompous Thurio instead. Despite his courtship of Julia, Proteus cannot get Valentine out of his thoughts and heads for Milan to find him. When Proteus falls for Silvia (or is he simply trying to sabotage Valentine's new relationship out ofjealousy?), events turn sour... But viewers, do not despair - old grudges, betrayals, hidden identities and deceptions are quickly glossed over, culminating in a typically Shakespearean, somewhat unbelievable, all's-well-that-ends-well finale.
One notable aspect of the play is that the servants' roles are almost as important as those of their masters - more so in terms of comedy value.
James Lavender is brilliant as cheeky chappy Launce; he shows excellent comic timing and manages to achieve nice, easy interaction with members of the audience. Top marks too for his moth-eaten, stuffed dog. Helen Morris is equally appealing as Lucetta, comely servant to Beth Wignall's rather silly but still endearing Julia. Luke Leeves is quietly passionate in the role of Proteus, and Kas Darley is compelling as the attractively self-assured Silvia. Alan Buckman shows off his range, as a man of the cloth in the first half and an entertaining, overtly camp robber after the interval.
At just over two hours long, this is certainly a good play to watch if you want a light-hearted introduction to Shakespeare. It's humorous, with dark patches, and easy to follow, even if you're unfamiliar (as most seem to be) with the play. Not the most earth-shattering piece but fun and engaging nonetheless.
Reviewed by Clare Peel for Theatreworld Internet Magazine