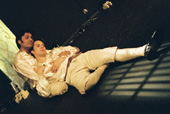 The dream begins

Melmoth was formed in 2003 by artistic director, Stuart Draper, and principal producer, Peter Fortune.

Having met on the set of Hamp, at a community theatre in West Norwood, Draper and Fortune began the artistic collaboration that was to result in Melmoth.

Draper had a great deal experience of theatre, having performed, written and directed in a number of professional shows since leaving university. Finding that the actor's life is often a hard one, Draper had left the business to concentrate on setting up a financial services company.

Following a production of The Tempest, at the same theatre, and again directed by Draper, the pair agreed that it was time to take Draper's vision of Shakespeare to a wider audience.

Hitting on the name of Melmoth (Oscar Wilde's pseudonym whilst hiding in France following his release from prison), it was decided that the first show should be Two Gentlemen of Verona, Shakespeare's first play, which had been adapted by Draper.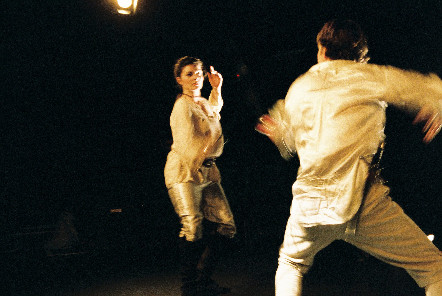 In the Melmoth version, the two gentlemen (Proteus and Valentine) were lovers - but driven apart by Valentine's overbearing father. With subtle adaptations of the script, and a new prologue written by Draper, the new take was ready for rehearsal and production. With a cast of clowns, gay bandits and the ever-present Crab the Dog, the show was a rollercoaster ride of love, honour, jealousy and virtue. Practically selling out, the show was a hit with audiences and critics alike:


"The genius version of Two Gentlemen of Verona... "
BOYZ

"the utterly fabulous, utterly hysterical, totally feelgood production of Two Gentlemen of Verona"
BOYZ

"A Shakespearean delicacy!"
Kentish Times

"The Melmoth production of Two Gentlemen of Verona is exactly the type of production that should turn everyone who dislikes the Bard into an instant convert"
The Kentish Times

"This was really a director's production and the twist he gave to the last scene was creativity of the highest order."
The Kentish Times

"Pretty irresistible"
Time Out, London

"A delightfully queer finale"
Time Out, London



Melmoth had landed.


The dream continues

No sooner had the feathers and rapiers been packed away, Draper and Fortune began the search for their next collaboration. As it happened, Draper already had a new adaptation up his sleeve... an audacious take on Shakespeare's A Midsummer Night's Dream.

"I've always loved the play, but thought it mildly flawed," explains Draper. "Hermia's father wants her to marry Demetrius, despite the fact that she is in love with Lysander. No mention is made of why Demetrius is thought to be a more worthy suitor."

"And then there is the infamous Pyramus and Thisbe finale," continues Draper. "I've always found it hysterically funny, but what was its point? It's obviously a commentary on the events we've witnessed in the play (overbearing father wants daughter to marry someone else, it all ends tragically) but seems almost shoe-horned in. Clearly Egeus is watching the play. He has had his will overturned by the Duke, and Hermia is now marrying Lysander. What effect would the play have on Egeus: watching what happens when a father intervenes in his child's life, how would he react to seeing the children die in front of his eyes."

Furthermore, both Pyramus and Thisbe and Midsummer Night's Dream tackled the same themes as their contemporary cousin, Romeo and Juliet. "The parallels are extreme," says Draper. "A Midsummer Night's Dream and Romeo and Juliet are the same plot, but have radically different outcomes. It is clear to me that the plays reflect Shakespeare's state of mind at the time of writing. He was in love with WH, a young man with whom he could never be together. There was probably a scandal surrounding his love affair, and it had been broken off. The fact that he chose to write a play about two lovers who could not be together was hardly a coincidence. But how to finish it?"

"There are two possible conclusions to the play: either the lovers get together, or they don't. In Romeo and Juliet, the lovers die tragically as a result of their affair. That would be the natural conclusion when their respective households were so at war. In a Midsummer Night's Dream, the lovers resolve their differences, and live happily ever after - but not without intervention from another world, the world of fantasy, the world of the Fairies."

So he wrote the 'same' play twice. He wrote them concurrently and they were performed within months of each other. With this in mind the Melmoth adaptation was born.

Swapping round the roles of Helena and Lysander, Helena was now in love with Hermia, and Lysander in love with Demetrius. This gives Egeus a reason to wish his daughter to marry Demetrius - rather than a member of the same sex! There is more at risk in the Melmoth version - and the swap gives modern audiences a more ready hook into the action.

The final twist was to bring the two plays together finally. Instead of performing Pyramus and Thisbe, the mechanicals perform their adaptation of Romeo and Juliet. And instead of making a hash of it, with Puck's intervention they perform it brilliantly .

"Where we expect buffoonery, we get a short sharp shock of real tragedy that hits the onlooking aristocrats, and us, right where it hurts. "
Time Out

And the final moments of the play - Egeus' tearful reconciliation with his daughter Hermia gave the play the happy ending it needed.

After a four week rehearsal period, Draper's adaptation hit the London stage. And audiences and critics were ecstatic:


"The show subverts the original and comes packed with a killer climax. A must see"
BOYZ

The original plot and dialogue migrate to this new adaptation with effortless creativity"
Kentish Times

"Stuart Draper's production has all the vim of a successful summer promenade show."
Time Out


"The chorus are a joy of comic timing and expression. Some people are wary of Shakespeare plays, often saying they are put off by experiences at school, but on this occasion I would say to those people, go and have some fun.'
News Shopper

"It's quite a risk rejigging such an established play yet in this case, Melmoth really pull it off. Fresh, funny and fiercely recommended."
Theatreworld Magazine


Following a mail-out to schools, the production was well attended by students. And despite its 'queer revisioning" proved an instant hit:

Dear Peter

I thought I would email you to say what a fantastic and clever interpretation of MSND you and the company have performed. My students and I really enjoyed the performance on Wednesday evening and they were all excited about it in discussion. It is very important that Shakespeare is continually reinvented and updated and you guys certainly know how to do that! All of the characters were fresh and captivating and the whole performance was clear and slick in its dramatic intention and communication of Shakespeare's themes and ideas!

Thank you for a great night and please pass on our congratulations and praise to all the cast and crew.

We look forward to your next production!

Shaun Baker
Joint Head of Drama
Ravens Wood School



Dear Peter

May I say once again how terrific the show was, our students were completely captivated throughout. Can you forward the Director's notes as mentioned previously as that would be so useful?

Also would you be interested in running a one-off workshop for the students around themes in the 'Dream, possibly Tuesday 7th Dec 2-4pm? The 'A' level group of students would total around 11, though there may be 3-4 vocational students that might want to also access it. If you are interested can you let me let me know costs - we have a limited budget for such things. Would be good to have you and say one of the actors come along? Do let me know. I shall pass this onto my Heads of School Ms Ann Monaghan (6th Form) and Ms Kate Hellman (Humanities).

Thanks

Roy Lee
AS/A2 Drama Tutor
Performing Arts Coordinator


Dear Peter

Splendid and splendiferous! We were all blown away by melmoth's take on
the dream and by the mighty performances. f***ing brilliant!

Do you intend to tour with it?

Though it won't be the same, do you have a video version?

Do melmoth do workshops?


Chantel Mathias
Sir Thomas Picton School
Queensway
HAVERFORDWEST
Pembrokeshire
SA61 2NX


Hi Peter

A huge thank you for a fantastic night on Saturday.

I enjoyed your MSND immensely. All the best!

Tanya Hethorn
Assistant Producer eTV, Interactive Drama & Entertainment
Room A400, BBC Centre House
Mob. 07970 598 269


Dear Peter

Just a quick note to say how much I enjoyed your production of MSND. I have
always regretted the depth of the bards writings lost on many a new
audience. Your production surely changed all that! I must admit that I
found the MSND goings on a bit confusing myself, and thus with trepidation
went to see your show! WOW, I was balled over! It was clear, precise with
tongue firmly in cheek! What made it even more spectacular for me was the
hitting of issues in a very off-beat way. No preaching but hitting the idea
firm and hard.

Thank you for a VERY enjoyable evening and opening up MSND finally for me
too!

As a director of theatre myself I cannot emphasise the enjoyment of the
performance too much! I have just moved here from South Africa and your
show was the first I saw here - what an introduction!

Kindest regards and BEST for the future - you deserve absolutely nothing
less!

Tinus Meyer
Director



Artistic director, Stuart Draper concludes, "Melmoth was set up with the aim of making the classics deeply moving, outrageously funny, and wholly accessible. That's not an original claim - but unlike most companies, we do what we say on the tin."

"Being surrounded by a group of GCSE students who have witnessed a production that they LOVED, that made them laugh, cry, holler and whoop, and moreover a play that was written over 400 years ago by Shakespeare, is a humbling experience."

"I have studied Shakespeare at school and university. I've always loved the language and found the plots witty if somewhat forced. However, once I threw away the hermeneutics and literary criticism, and read them again with the key that is the sonnets, they blow me away with their incredible insight into the human condition."

"Melmoth may be in the business of performing adaptations, but one important fact remains: I direct with the heart of the piece in mind. What you see is the same play, but with a slightly different voice. But the heart of the play, Shakespeare's vision remains. That is why they work. That is why they are so moving. And that is why Melmoth will be remembered as a unique and successful producer of Shakespeare in the 21st century."