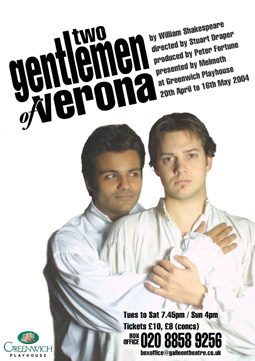 Two Gentlemen of Verona

Directed by: Stuart Draper
Assistant director: Anton Krause
Produced by: Peter Fortune
Costume design: Alan Buckman
Lighting design: Joe Hall
Set design: Mark Bullock
Two Gentlemen of Verona
"Love and a bit with a dog"
Valentine is in love with Proteus - but Proteus' father would rather see him married to the rich and spoiled Julia. Valentine leaves to seek his fortune in Milan, under the tutelage of the Duke. Here he meets Silvia. They have a lot in common - and he finds her love of sword fighting, tilts, tournaments and, most importantly, her sensible shoes, quite endearing.
Leaving Julia behind, Proteus follows Valentine to Milan - Julia follows, dressed as a boy, and the fun begins. With a cast of clowns, comedy maids, and a troop of gay bandits, Two Gentlemen of Verona is an hysterical new take on this little performed classic.
Ecstatically received by audiences and critcs alike, Two Gentlemen of Verona played to packed houses.
For reviews CLICK HERE
For production photos CLICK HERE