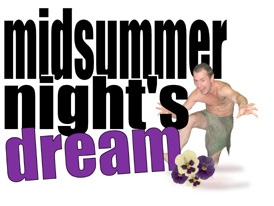 production photos | more about msnd | home | reviews of past shows
REVIEWS
"The show subverts the original and comes packed with a killer climax. A must see"
BOYZ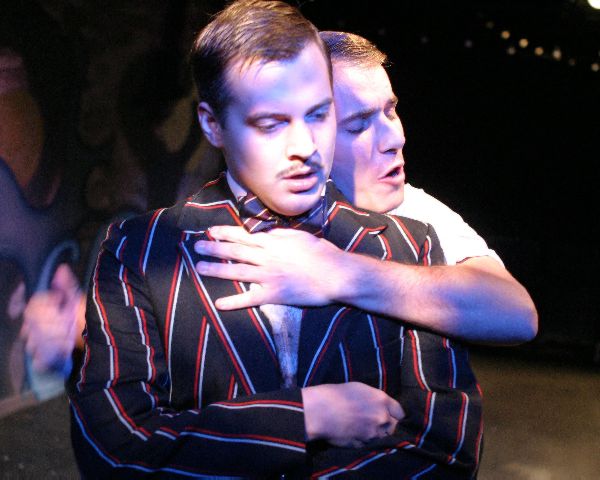 Shakes-queer

As recommendations go, this one from thisislocallondon.com is pretty strong, if not a little unusual: 'Melmoth Theatre Company is currently showing its unique version of A Midsummer Night's Dream in Greenwich, after pulling off Two Gentlemen of Verona last year.'
Well Melmoth do stage provocatively gay theatre, though any one who saw the genius version of Two Gentlemen of Verona last year may debate that it was as explicit as that suggests.
The current show, A Midsummer Night's Dream, at the Greeniwch Playhouse, subverts the original and comes packed with a killer climax, but also has the flair and style you'd expect from top quality Shakespeare. In this version, it's Hermia and Helena who are forbidden to marry, while Lysander is in lurve with Demetrius. A must see.
BOYZ, London
The original plot and dialogue migrate to this new adaptation with effortless creativity"
Kentish Times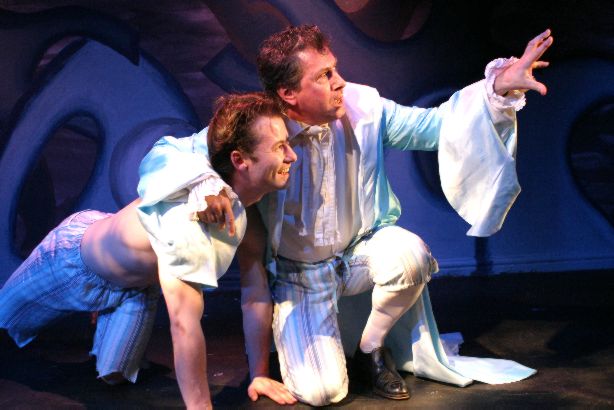 In Shakespeare's time, it was not unusual for a male actor to perform the part of a female in a play. Not quite so usual, a female might be chosen to play a male role, but Shakespeare used the ploy to good advantage in several of his plays.
A Midsummer Night's Dream is a perfect example when a group of craftsmen are asked to perform a play at the wedding of Theseus, the Duke of Athens. In the Tragical Tale of Pyramus and Thisbe, with no female performers the heroine is played by a man.
Now, after it's success with a version of the Bard's Two Gentlemen of Verona, Melmoth is performing its own adaptation of A Midsummer Night's Dream at the Greenwich Playhouse.
The stunningly attired Queen of the Fairies, Titania, is played by an exquisitely transformed male actor, called Menno Kuijper. Playing the King, Oberon, John Cooper Day is unquestionably a male and a fine actor.
The early scenes in the traditional play are concerned with Hermia, who will be put to death if she marries Lysander. Her friend Helena, is in love with Demetrius but he is actually in love with Hermia. But Melmoth have found a new way out of the problem.
When the two couples flee Athens, they end up in the magical world of the fairies, where Lysander finally falls in love with Demetrius while Hermia and Helena fall in love with each other.
The original plot and dialogue migrate to this new adaptation with effortless creativity and Puck (played by a wonderfully animated Peter Fortune) still makes a hash of placing the magic potion in the wrong eyes, but with somewhat different results.
Hermia and Helena are portrayed by two fine actresses (Beth Wignall and Nadine Lewington) and they handle the twists in the plot with the same gentle emotions as those displayed by Demetrius (Luke Leeves) and Lysander (Matthew Hyde) - except of course when passions run too high.
Angus Lindsay creates a wonderful Bottom and donkey, while the play by the craftsmen is a delight.
ROY ATTERBURY, Kentish Times
"Stuart Draper's production has all the vim of a successful summer promenade show."
Time Out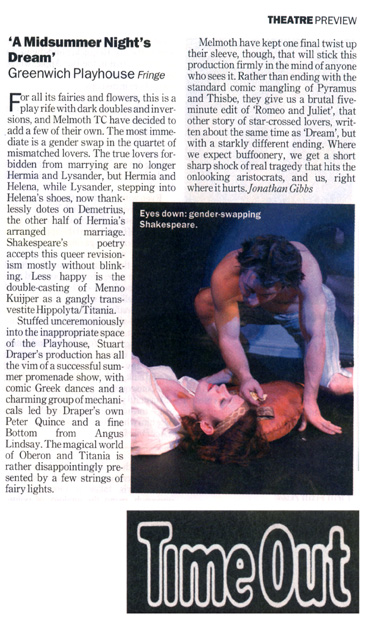 ***********************************
"The chorus are a joy of comic timing and expression"
FOUR STARS News Shopper 3 November 2004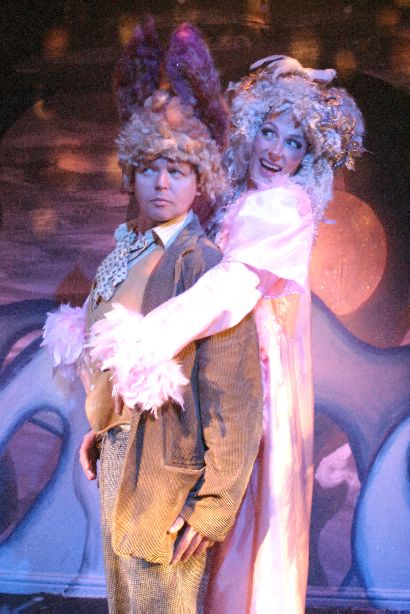 Quality Shakes-queer
By Paul Revel
On a cold, dark autumn night in Greenwich you can find a bit of warm Greek magic, courtesy of both William Shakespeare and Stuart Draper. Melmoth Productions is performing A Midsummer Night's Dream (love and a bit with a donkey) at Greenwich Playhouse.
We've seen condensed Shakespeare before but this is perhaps best described as twisted Shakespeare. A Midsummer Night's Dream is set in Athens so we open in a Greek taverna, complete with bouzouki music and fairy lights.
The company name comes from Oscar Wilde's favourite alias and in a Wildean take on proceedings, the parts of Helena and Lysander are swapped. This makes for a melee of thwarted desires. Helena and Hermia elope and soon boy chases boy chasing girl.
Then when Oberon lets loose his magic love dust, this comedy of errors becomes queerer and queerer.
The chorus, who play taverna staff, rude mechanicals' and Titania's fairies,' are a joy of comic timing and expression and the proposal to stage a play creates a monster, with Bottom convincing as an obnoxious egotistical thespian.
The costumes are a baroque mix, with forties tweeds and furs, six-inch perspex heels, unshaven woodland fairies in silk pyjamas. No-one can accuse this show of austerity Titania has a white dove nesting in her platinum blond fright-wig.
I don't know what Shakespeare scholars will make of it all but to my mind, the script was delivered naturally and expressively. I often find Shakespeare's verse quite impenetrable but this time I heard every word of the vivid imagery. Melmoth extract every drop of comedy from the text, then pour in a little extra with many mischievous additions, such as Bottom paying homage to Ali G.
The cast are brimming over with energy, flinging themselves alarmingly around the tiny space. They are tight knit ensemble both adapter/director Stuart Draper, and producer Peter Fortune also perform in the show. Talking of whom, I have never seen a theatre producer move as athletically as Fortune's malevolent Puck - where is the belly and cigar?
There was the occasional slight wobble, hiccups in the fast-paced rhythm the space is so intimate you see a warts-and-all production but nothing to detract from the show's strength, or my enjoyment. The Athenian peasants' hyper-condensed Romeo and Juliet was clever with stark intensity contrasting with the previous high camp shenanigans and a redemption for the clownish chorus but I found it a bit much after the two-hour high energy romp.
Some people are wary of Shakespeare plays, often saying they are put off by experiences at school, but on this occasion I would say to those people, go and have some fun.'
Reviewed by Paul Revel for News Shopper, 3 November 2004
***********************
Fresh, funny and fiercely recommended."
Theatreworld Magazine
Greenwich Playhouse: A Midsummer Night's Dream by William Shakespeare, adapted and directed by Stuart Draper
Production by Melmoth
Earlier this year at Greenwich Playhouse, Melmoth put on an alternative version of Shakespeare's 'Two Gentlemen of Verona', in which the two eponymous heroes were gay lovers. This autumn 'A Midsummer Night's Dream' gets a similar treatment. The core of the play remains the same but the parts of two of the four lovers (those of Lysander and Helena) have been swopped over, meaning that Hermia is in love with Helena (not Lysander) and Lysander (not Helena) is in love with Demetrius. Confused? Don't panic - the transition is pretty smooth (there are only a few lines that don't work too well) and both the cast and the overall production are spot on, all of which makes for a thoroughly entertaining night out.
So on to the plot... The scene is set in Athens, and the Duke of that good city is preparing to marry Hippolyta, Queen of the Amazons. All is not well in love and war, however, with a bit of a ruckus happening between four young lovers: Demetrius; Hermia; Helena; and Lysander. Demetrius wishes to marry Hermia, but Hermia's in love with Helena. Hermia's father, infuriated, states that either the pair will marry or Hermia will face being put to death. The girls plan to elope together, but Lysander tells Demetrius of the girls' flight, and he (Demetrius) chases after them. Lysander, with a touch of the Benny Hill, follows.
Meanwhile, in the forest, local weaver Bottom and friends are rehearsing a play that they hope to perform in honour of the impending marriage of the Duke. Unwittingly, Bottom becomes mixed up in a revenge act between Oberon, King of the Fairies (and is there any wonder why Melmoth picked this play?), and Titania, his Fairy Queen. Oberon has instructed Puck to sprinkle love potion on the eyes of Titania, so that when she awakes, she will fall in love with the first thing she sets eyes on... Cue Bottom the weaver.
"It's quite a risk rejigging such an established play yet in this case, Melmoth really pull it off."
Theatreworld Magazine
It's quite a risk rejigging such an established play yet in this case, Melmoth really pull it off. This smooth transition is due in no small part to the fabulous cast. Angus Lindsay oozes charisma as Bottom, playing the oafish character - unexpectedly - as a likeable posh buffoon. Menno Kuijper makes a truly Amazonian Titania, dressed like a New York drag queen in pink satin (or is it silk?), fabulous Elton John-style wig (think birds and feathers) and outrageously high platform sandals. Of the lovers, Luke Leeves is a low-key Demetrius; Matthew Hyde camps it up entertainingly as Lysander; Beth Wignall is a dainty 1940s firecracker as Hermia; and Nadine Lewington plays both the serious and the comic effectively as Helena. The flamboyant Alan Buckman pulls on his high-heeled boots once again to play an effete Chamberlain Fairy, and producer Peter Fortune makes an athletic and endearingly mischievous Puck.
Top marks to director Stuart Draper, who it's great to see on stage as Quince and Mustardseed. He's done a wonderful job of breathing new life into this comedy. Little touches - such as the cheesy Greek taverna music (this is Athens, after all) - really add to an already agreeable evening. Similarly, the switch from Shakespeare's Pyramus and Thisbe to Romeo and Juliet as the play performed by the craftsmen heightens the familiarity to most 21st-century viewers and also creates an interesting parallel between two plays (in both, a child rebels against a parent).
This sweet comedy's lots of fun, and when the Duke of Athens, looking for a little something to liven up his wedding celebrations, questions, 'Is there no play to ease the anguish of a torturing hour?', you rather wish he too had a ringside seat at Melmoth's 'Midsummer Night's Dream'.
Fresh, funny and fiercely recommended.
Reviewed by Clare Peel for Theatreworld Internet Magazine Playing until 21 November 2004